By · On 03/03/2014 · Comments
Thanks to bodyunburdened.com for this great chart.
Did you know that eating raw flax seeds, hemp seeds and chia seeds reduces inflammation?
You will find lots of great recipes with seeds for pesto, pie crusts, smoothies, pancakes, and lots more on my website. Here are some delicious  recipes to get you started eating more seeds: Read More→
By · On 02/21/2014 · Comments
CHICOPEE, Mass. (Mass Appeal TV; February 19, 2014) – Even though watching your weight can be difficult, it doesn't mean you have to sacrifice the foods you love, like chocolate! Leslie Cerier, the Organic Gourmet shares her heart healthy, gluten-free, chocolate recipe for Dark Chocolate Coconut Soup with Raspberries with us! And, if you make this recipe a day ahead and refrigerate it, you will have a dark chocolate coconut mousse. It is All About the YUM! Read More→
By · On 02/18/2014 · Comments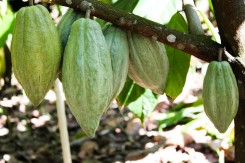 Guest blog post by Kelsie Evans, Equal Exchange Chocolate Products Coordinator.
Cacao, the fruit from which the main ingredient in chocolate is derived, grows in beautiful, tropical conditions along the equator. The cacao tree naturally prefers the shade, especially when young, and can grow in harmony with and in support of the local ecosystem when thoughtfully cultivated by small-scale family farmers using organic production methods. Read More→