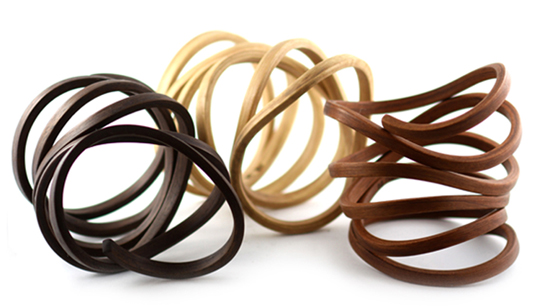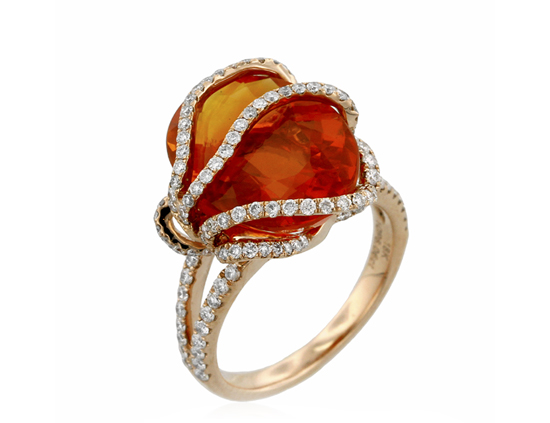 YAEL DESIGNS LYRA COLLECTION Lava Fire Opal Ring, $6,779; www.yaeldesigns.com
This spectacular fire opal and diamond cocktail ring won the prestigious AGTA Spectrum Award for Evening Wear. CEO Yehouda Saketkhou named the new collection after a constellation that includes one of the night sky's brightest stars, which are fire spirits. The collection "celebrates the colors and mystery of the cosmos that are reflected in the gemstones we find on our planet," he says. The fire opal, the rose gold and the diamonds are all EARTH spirit, ethically sourced from an American Gem Trade Association (AGTA) authorized dealer.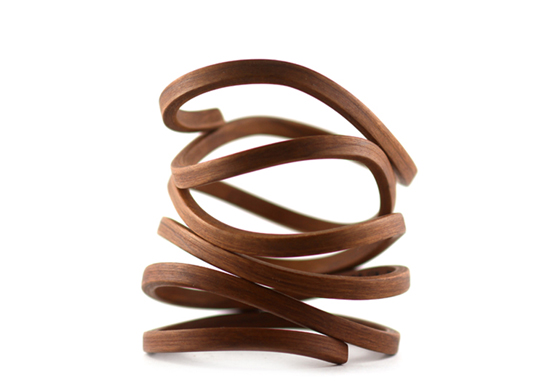 GUSTAV REYES Limited Edition Organic Coils, $170 each; www.gustavreyes.com
Gustav Reye's deep connection with nature is evident in his exquisite salvaged and Forest Stewardship Certified (FSC)-certified wood bracelets with wood grain reminiscent of a water whirlpool or fire smokes.
"I simply set the wood free," he explains. Reye handcrafts each piece using a cold-bend process and working with the wood's natural grain and color. The design was inspired by the trefoil knot, an archetypal "infinity loop" that symbolizes integration of past, present and future.
ANNE SPORTUN Sunburst Collection Sapphire Ring, $3,115; www.annesportun.com
Inspired by the "universal language of shape, symbols and form," artist Anne Sportun creates show-stopper pieces that "encourage an intimate exchange between the piece of jewelry and the person wearing it." These brilliant orange, pink and yellow sapphires sparkle in celebration of earth's rich bounty, like sunburst fireworks at an autumn harvest festival. Each piece is handcrafted using ethically sourced gemstones and fine recycled gold metal.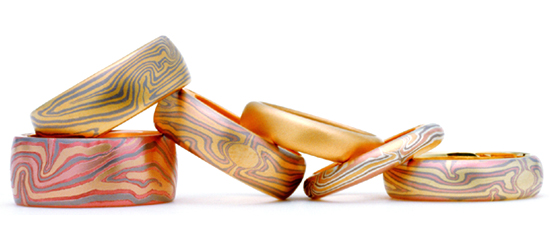 GEORGE SAWYER Wabi Sabi Half Round Rings, $3,120 – $5,680; www.georgesawyer.com
George Sawyer invented the mokume gane, or "wood-grain metal," technique, which fuses and manipulates layers of precious metals to form mesmerizing and unique works of art. The fluid swirling shapes in the metal's patterns also evokes wood grain, water and sensual fire smoke.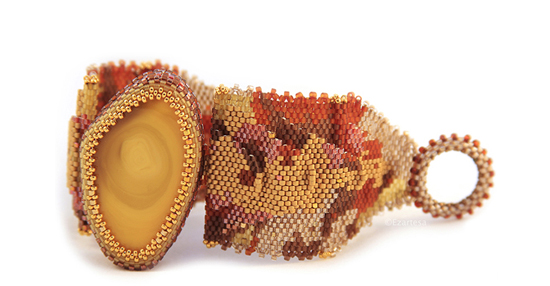 EZARTESA Sunny Amber Bracelet, $670; www.ezartesa.com
Ezartesa uses a blend of techniques from Native American, African Zulu and Victorian bead-weaving traditions to make these bracelets from repurposed vintage glass seed beads made from earth element sand and wood element amber, which is 50-million-year-old fossilized tree resin. "I am inspired by the natural radiance of amber and it's warm and golden tones," says Ezartesa. "Very early one morning, while visiting my grandparents near the Baltic Sea, I found this piece of amber in the sand." She uses the finest amber, from the southern shore of the Baltic Sea, where it is called the "gold of the North" and believed to possess healing powers.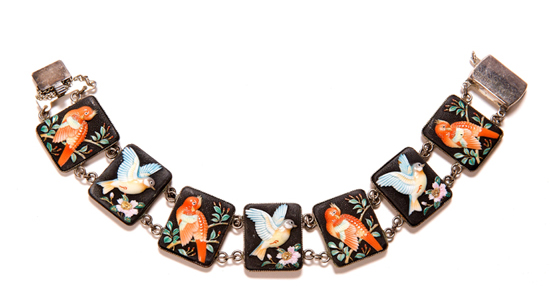 TOSHIKANE Arita Sterling Silver Porcelain Bracelet, $325; www.rubylane.com/shop/myfinestthings
This rare and highly collectible signed bracelet with eight porcelain "plagues" depicting cheerful birds is in excellent vintage condition, circa 1940s. The Toshikane Company was located in Arita, Japan, a city known for creating the world's most beautiful porcelain jewelry. Porcelain is a fine clay, so this piece embodies earth spirit. The vibrant, autumn-colored birds express fire in flight.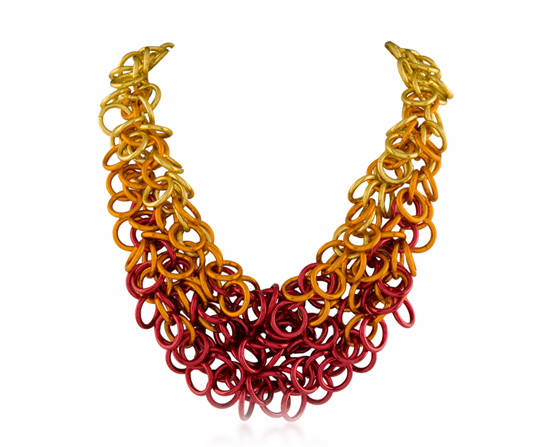 REBECA MOJICA Flame Fade Bibbed Fringe Chainmaille Necklace, $145; www.rebecamojica.com
Award-winning chainmaille artist Rebeca Mojica creates unique pieces by carefully linking one hand-crafted ring to another, a process she finds to be a soothing, meditative blending of "free-form shapes with mathematics." This dramatic fire spirit ombre necklace is made from recycled solid aluminum, a surprisingly light, flexible metal form.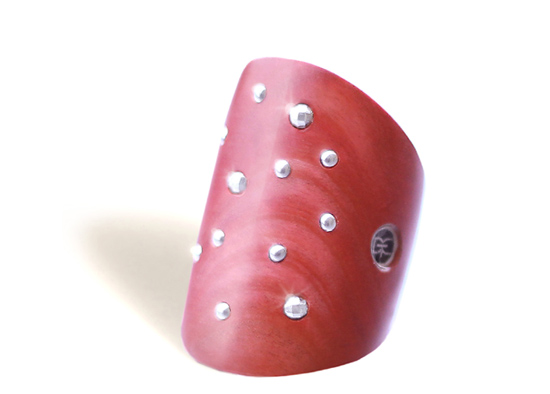 DO THE EXTRAORDINARY Pink Ivory Wood Ring, $75; www.dotheextraordinary.com>
DTE seeks to "inspire, encourage, unite and invest in the extraordinary causes of so-called ordinary people." Each ring is handmade from salvaged pink ivory, a rare wood native to South Africa, by local artisans who "let each unique part of the tree be," without stains or other additives. This pink ivory was salvaged from trees that were removed to make way for public works projects such as dams. Fourteen facet-cut sterling silver metal studs sparkle like early morning water spirit dew drops. A percentage of each ring sold is donated to The Nature Conservancy.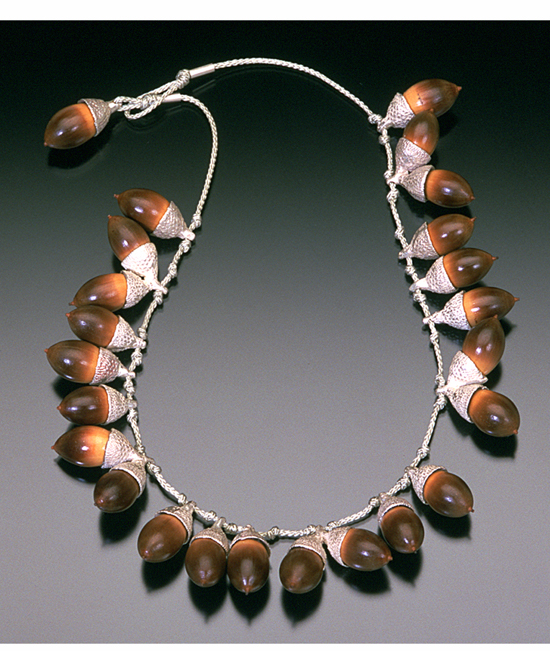 SARAH HOOD Savannah Necklace; www.sarahhoodjewelry.com
Photo by Doug Yaple
This one-of-a-kind, museum-worthy piece embodies Sarah Hood's mission "to showcase the ordinary in extraordinary ways." The necklace, a balance of smooth wood spirit and shiny silver metal spirit, was made with hand-cast recycled sterling silver and live oak caps gathered along the boulevards of Savannah, Ga. Each silver cap holds a real acorn. Hood is drawn to archetypes, "those images floating beneath our collective consciousness," she explains. Each acorn is a seed that holds within itself the pattern of a Great Oak, invisible to itself — symbolic of each individual's profound potential.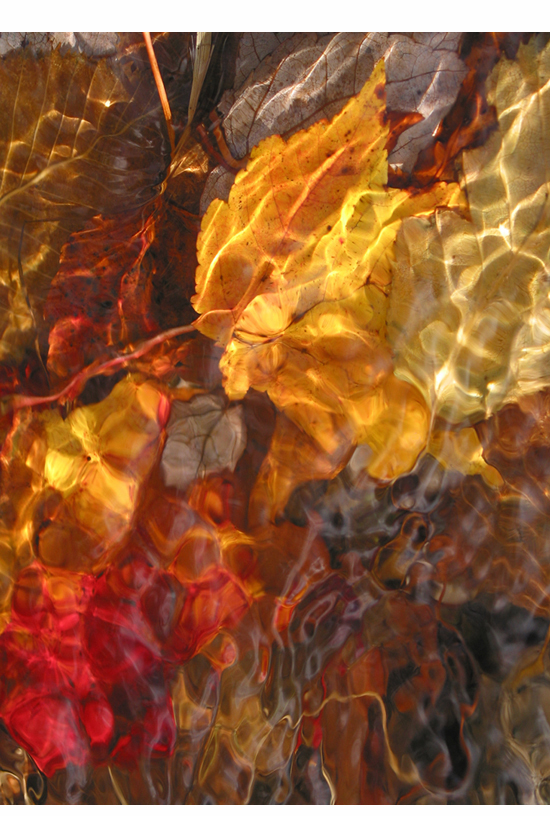 Leslie Cerier
, an organic gourmet chef who finds inspiration in the play of water, light and color in the natural world, captured these fire-colored autumn leaves in a mountain stream. Her beautiful image inspired the colors of this feature.
Click here to see more of Leslie Cerier's Impressionistic nature Photography
RESOURCES
These pieces were made by artists committed to a healthy environment and human rights. Eco-friendly and ethical standards include reclaimed or recycled precious metals and other salvaged and repurposed materials. All of the diamonds and gemstones originate from certified conflict-free sources and from countries that follow United Nations human rights resolutions. Want to learn more? Jewelry professionals around the world are working together to create systems that promote positive change. Check out these online resources:
Fair Trade Gems (fairtradegems.com)
No Dirty Gold (nodirtygold.org)
Fair Trade Federation (fairtradefederation.org)
Global Witness (globalwitness.org)
Ethical Metalsmiths (ethicalmetalsmiths.org)
Kimberley Process (KimberleyProcess.com)
Turquoise Mountain (turquoisemountain.org)
Ethical Metalsmiths (ethicalmetalsmiths.org)
Kimberley Process (KimberleyProcess.com)
Turquoise Mountain (turquoisemountain.org)